Can elegance and exercise co-exist? At purpose. Race Events we passionately believe they can. The dynamic Spa Girl Tri will challenge you to push yourself while we're there to pamper you at the finish. So be bold, indulge and let the racing, rejuvenating and relaxing begin.
Register Here!

Special Early Bird Pricing $99 for the first 99 Registrants

Thru 3/31/17
Thru 5/01/17
Thru 5/30/17

---

Individual Age group
 $120.00
 $125.00
 $130.00

---

 2-Person Relay
$205.00
$215.00
$225.00

---

3-Person Relay
$290.00
$305.00
$315.00

---
*** ENTRY FEES HAVE NO REFUNDS / NO TRANSFERS / NO DEFERRALS ***

STAY CONNECTED ON FACEBOOK FOR UP TO DATE INFORMATION!
DESCRIPTION
Here's just a few of your racing perks:
Custom Female Tech Shirt (we will be finalizing our selections for you in the coming months)
Special new swag to be announced for 2017….look for updates as we finalize what cool swag will be included for 2017
Yummy Post-Race Food and Relaxation on one of the resorts most beautiful party lawns including Mimosas
Race Distances/Description:
200 meter SWIM: Your glorious morning begins with a quick dip in the clouds with a pool swim at The Omni Dallas Hotel in a Time Trial Start(one at a time).
10 MILE BIKE: You'll then be treated to a most scenic urban bike course on the edge of downtown Dallas with epic skyline city views as you zoom right along.
2 MILE RUN: Next up, elevate your fabulous race experience with a tranquil run to a pulsating Finish on the main event lawn followed by a delicious post race brunch complete with mimosas.
Event is professionally chip-timed. We will provide the chip. Please bring your own bike or bike rentals are available in Dallas.
For those wondering about how the relays work:
For the 2-Person Relay, each participant completes their desired portion of the race.  For instance, one swims, the other bikes and runs, or one swims and bikes, the other runs, etc.
For the 3-Person Relay, each person competes one leg of the tri: one swims, one bikes, and one runs.
Post race celebration to top off your race as you relax with yummy food and pampering.
EVENT SCHEDULE 
Start Time: 7:00am
DATE:  Saturday, June, 3rd, 2017
PACKET PICK-UP/EXPO:
Date:  Friday, June 2nd, 2017 at the Omni Resort  12:30-6:30PM
Informational Meeting follows at 6:30PM (NON-Mandatory) but GREAT for first time triathletes.
ACCOMMODATIONS
OMNI DALLAS RESORT & SPA – $179 Discounted Group Room Rate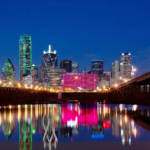 THE CROWN JEWEL OF DOWNTOWN DALLAS
Modern luxury near the Dallas Convention Center

Located in the center of the revitalized downtown Dallas, Omni Dallas Hotel is connected via sky bridge to the Dallas Convention Center and close to restaurants, shops, the Dallas Arts District and more. Local history and flavor is showcased throughout the hotel. Guest rooms, meeting space and restaurants all feature pieces from local Dallas artists. Stunning views of downtown can be enjoyed from the terrace pool deck and spacious fitness center.
https://www.omnihotels.com/hotels/dallas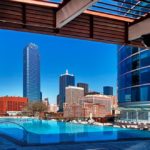 SPONSORSHIP OPPORTUNITIES
There are great sponsorship opportunities available for this race. Feel free to contact us if you are interested.  As well, we welcome vendors that would want to participate in our unique expo experience.  We are looking for great companies that have unique items for the ladies.